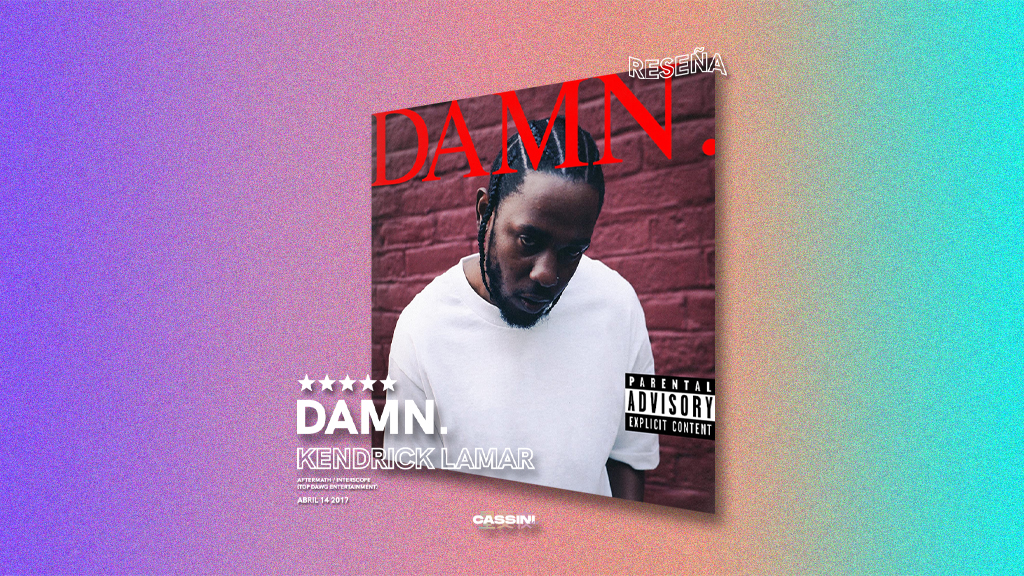 «DAMN.», el manifiesto introspectivo de Kendrick Lamar y su repudio por el mundo moderno
Hace poco uno de los mejores álbumes en la industria del rap contemporáneo alcanzaría su cuarto aniversario, nos referimos al LP, DAMN (2017) de Kendrick Lamar, un disco basado totalmente en experimentar sonidos y esencias del rapero, saliéndose completamente de su papel en To Pimp a Butterfly (2015).

Un trabajo aclamado por todos, no conozco una sola persona fan del rap moderno que esté en contra de ese trabajo de Kendrick, realmente, en gusto personal, es el mejor álbum del MC, pero la razón por la que la gente desmerita DAMN (2017) como uno de los mejores es por un pequeño conjunto de situaciones.
¿Por qué dejar de lado DAMN?
Uno de los motivos principales por lo cuales poca gente de nueva escucha dentro del rap se adentra en este material es por la instrumental que se decide usar, pues en comparación a sus anteriores trabajos, es una un poco más austera, de cierta forma más minimalista, la cual la hace sentir más real, es menos pesada y más fácil de digerir de cierta forma, a comparación de To Pimp a Butterfly (2015), donde vemos una explosión de beats que no están comandados por Kendrick Lamar directamente, es un conjunto de los mejores productores de la industria los que se encargan de ese instrumental, es por eso que se muestra de esa forma, y no de una más orgánica como en DAMN (2017).
Otro aspecto a tomar en cuenta es la variación de los propios beats, muchas veces no sabes cuando estás escuchando una canción sobre otra, sentimos esa presencia de mezcla comúnmente en DNA o XXX, pero sí lo vemos desde el punto de vista de un fan de Kendrick Lamar, sabremos que es parte de su estilo, y es una parte grata de escuchar de su parte.
Los miedos de Kendrick
Ahora bien, adentrándonos en el rol de juego del álbum, Kendrick nos plantea de que él realmente está en otro nivel, siendo un dios de la industria moderna, aunque haciéndolo de una forma bastante sutil, pues creo que este es el material más sincero del rapero. DAMN es la exposición de la personalidad de Kendrick Lamar, enfocándose en temas como la religión, la depresión, la sugestión de la vida, y a su vez manejando temas políticos, espirituales, introspectivos, y hasta una canción bastante romántica a dueto con Rihanna, y de su visión de la humildad como lo es HUMBLE, el track más famoso de la producción, y la pregunta que más ronda este disco es «¿Qué pasa si pierdo todo lo que he logrado como rapero?»
Una parte clave de este álbum es el tema FEAR., ya que nos muestra la versión más íntima del rapero, esta canción narra la vida de Kendrick a los 7, 17 y 27 años. En cada etapa nos cuenta sus miedos, que le preocupaba, que no lo dejaba dormir, sumándole que es la catarsis del álbum, pues hay un verso dedicado al mismo álbum, dando una cátedra del dominio que tiene a la hora de tomar el micrófono, rapeando sobre temas como DNA, HUMBLE, PRIDE, LOVE y LOYALTI.
Al final, DAMN (2017) es una crítica llena de furia y tristeza al mundo moderno, contando una historia cronológicamente sobre el pasado, presente y futuro de Kendrick Lamar, todo esto mientras desafía a la sociedad a lo largo de su camino.

Kendrick Lamar sin duda ya es considerado por muchos como el mejor rapero de la década, y con justa razón me sumo a los creyentes de esto, si tú como oyente quieres iniciar a escuchar la música del rapero, DAMN (2017) sin duda es ese disco que te hará conocer su parte más real, ideal para quienes se quieren acercar más al artista.