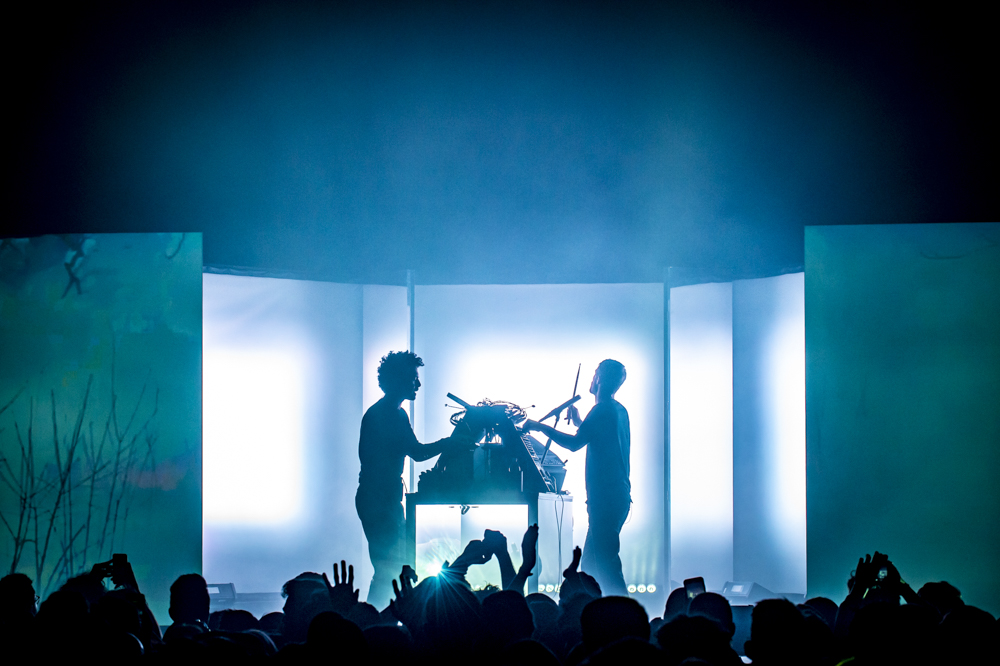 The Blaze: Electrónica atmosférica convertida en imágenes
Poder crear un mundo dentro de la misma música es una tarea un tanto difícil; si bien, hoy día conocemos bastantes propuestas musicales que nos ofrecen una atmósfera, hay una agrupación que lleva este mundo al plano material.
Pero antes, ¿cómo podríamos definir la atmósfera dentro de la música? Se podría concebir como una contextualización del sonido acorde a la situación, que permite al oyente situarse adonde el artista quiera llevarlo a través de su música. Muchos consideran a la atmósfera como el ambient.
Esta práctica no se limita en uno u otro género, pasa celosamente desde el dream-pop, post-rock y hasta la electrónica. La atmósfera es un recurso clave para tocar las fibras más sensibles del espectador, creando una experiencia sonora increíble, fantasiosa y cautivadora.
La atmósfera visual
La representación material de la música no tiene limitaciones, pues puede experimentarse con tanta cosa como sea posible en la mente del artista, pero llevar la atmósfera a un territorio material es un tanto difícil de imaginar. Sin embargo, un dúo francés de primos se unió y conjugó estos elementos para crear algo único y fantasioso: The Blaze.
The Blaze es un proyecto musical nacido en 2016 por dos primos, Guillaume Alric y Jonathan Alric. Este último estudiaba cine en el INSAS de Bruselas, una de las escuelas más prestigiosas de cine de la capital belga, y buscó a su primo para que le ayudara a crear una banda sonora para un video musical en el que estaba trabajando por una tarea académica.
Posterior a ello, se dieron cuenta del enorme potencial que tenían como dúo, y comenzaron este proyecto hace relativamente poco, pues apenas a inicio del 2016, lanzaron su primer video, para el sencillo Virile, y un año después su primer EP salió a luz, así fue como Territory (2017) tuvo un enorme y fiel recibimiento en su natal Francia y gran parte del este de Europa.
La conversión de lo sonoro y lo visual
Bajo el sello Animal 63, fue que lanzaron su álbum debut, Dancehall (2018), y con este material fue que su carrera internacional creció exponencialmente dentro de la música vanguardista y el nicho cada vez mayor de electrónica y house.
Lo llamativo de este dúo es que sus canciones son acompañadas de imágenes, de visuales hechos con calidad cinematográfica, creando una atmósfera dentro del universo de The Blaze. Lo bonito de todo esto es que las mismas imágenes van acorde a la letra de la canción, y conectan a la perfección con el sentimiento evocado por la atmósfera sonora creada en cada pieza.
Los shows en vivo de la agrupación son de igual manera impecables, cuidados con una perfección sonora y visual. Aunque en México solos los hemos visto dos veces y en forma de DJ Set -Ceremonia y Radiobosque, ambos en 2019-, en YouTube podemos encontrar versiones en vivo donde los visuales y la música crean un espectáculo en vivo como nunca visto.
Además los videos del dúo reflejan la belleza humana, al desnudo, en un mundo caótico. Porque se sabe que el mundo está lleno de estímulos que hacen que saquemos nuestras manías más carnales, pero fuera de eso, todo estímulo nos hace actuar a consecuencia de manera humana y civilizada. Una unidad por el desarrollo personal y de la especia. Hermoso y profundo.
The Blaze resulta una propuesta internacionalmente aclamada al día de hoy, interesante e íntima, donde las fibras más sensibles de cada oyente son tocadas con una delicadeza implacable, dejando su subconsciente al descubierto creando una atmósfera exquisita, cautivadora y fiel a sí misma.