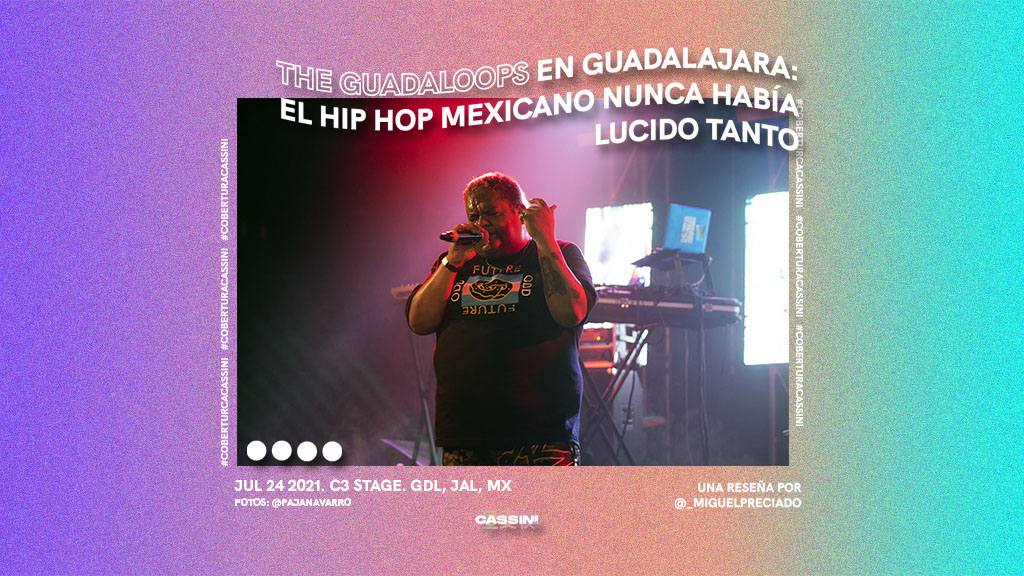 The Guadaloops en Guadalajara: El hip hop mexicano nunca había lucido tanto
La tempestad actual nos orilla a ir regresando poco a poco a nuestra rutina social, laboral y escolar, los conciertos no pudieron quedar fuera y cuando se anunció la fecha de The Guadaloops en la perla Tapatía, el júbilo de sus fans se hizo presente en redes sociales, después de dos años, la banda regresaba a tocar en Guadalajara y como tal, a los escenarios después del parón de actividades en marzo del 2020.
Las promotoras, junto al C3 Stage, han apostado por bandas nacionales para retomar actividades y tratando de cubrir el variado gusto musical de una ciudad tan ecléctica como la nuestra, la noche del 24 de julio se enfocaría al público rapero y trapper.
Sonidos emergentes y necesarios
Un concierto sin bandas invitadas y/o actos abridores es sumamente raro, darle la oportunidad a proyectos emergentes es vital para ir creando comunidad musical y retomar las raíces de aquellas olas musicales tapatías de los años 90's con el rock y de inicios de los 00's con la electrónica.
Órbitas GDL y La Tuna Group eligieron para la fecha de Guadalajara a dos bandas encargadas de iniciar la música en punto de las 8:20 pm, la primera en turno, fue la increíble Astrid Cruz y su live band, acto que mezcla rap con ritmos y estructuras R&B, roots, trap y hasta solos de guitarra.
Las personas fueron acercándose al escenario por la actitud y lo atractivo de su música que provocaba los primeros pasos de baile de las y los asistentes, durante casi media hora, en lo que fue su debut full band, nos dejó claro porque su proyecto ha sido aplaudido en IG por nombres como Girl Ultra y Noa Sainz.
SICKKKKKKKK
Como si fuera un set de drone, Rúben Naranjo a.k.a. Cxsinensis, en compañía de su DJ Amorpho, comenzó un set denso y con frases introspectivas en completa oscuridad, para después soltar la enérgica base trapera y las rimas bilingües de Rúben y al unísono pidiéndole a la gente sus gritos y participación en los tracks.
En un contraste bastante interesante, mientras los beats de Amorpho rayaban lo industrial y sick como los identifican en el argot estadounidense, Cxsinensis trataba temas filosóficos y humanistas en sus letras.
Elección más que atinada por parte de la promotora para calentar motores, live band de hip hop con Astrid Cruz y beats experimentales con Cxsinensis, ambos tópicos que conocen a la perfección la banda estelar de la noche.
*Permanece al pendiente a las redes de Cassini, que tenemos preparadas entrevistas con ambos proyectos.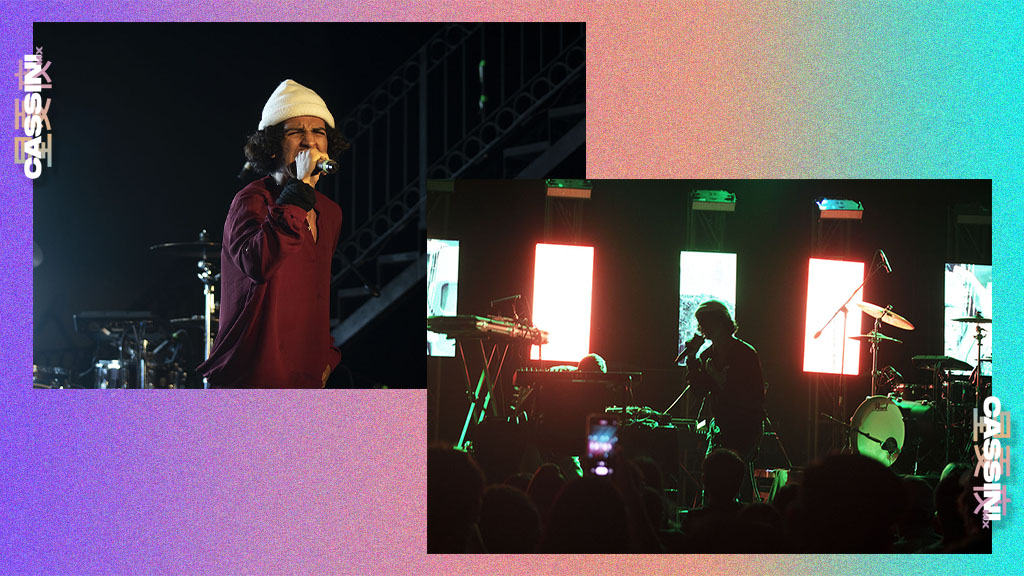 Experimenta, crea y triunfa
Pero, ¿por qué The Guadaloops causa tanto revuelo?, como ellos mismos lo dijeron para nuestra #EntrevistaCassini: "No hay ninguna banda en México haciendo lo que nosotros". Créannos, la ambición en un proyecto es lo que más necesitamos en la actualidad.
A The Guadaloops no le bastó con hacer hip hop, se atrevió a incursionar con beats experimentales del abstract rap noventero y dosmilero como Madvillainy, Shabazz Palaces o cLOUDDEAD, la voz de Fermín nos recuerda a toda la ola jazz rap de A Tribe Called Quest y De La Soul, la presencia y flow de Tino complementa la dualidad en las vocales, más lo que Ferdinand, Berni y Sami crean con esas atmósferas únicas.
Minutos después de las 22:00, la banda subió al escenario para iniciar el show con "La Teoría de la Felicidad" y "Luminas", el grito fue mayor cuando Tino se unió a la tarima y el inicio de "Nunca es Tarde" provocó el primer gran momento de la noche, Fermín se encargó de recordarnos que tienen nuevo disco y adelantó que tocarían algunos tracks, sonando en primera instancia el reggaetón de "CAE EL RÍO" y después el bailable "HAY DÍAS QUE LLUEVE", donde colaboró Fntxy de La Plebada.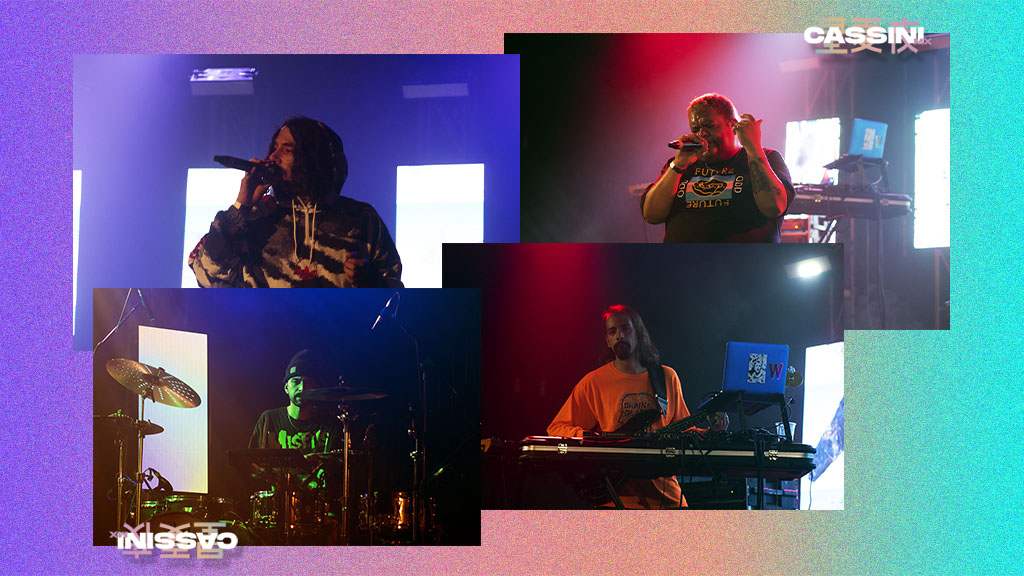 El camino que decidieron tomar con (SEIS) (2021) fue uno donde predominará el reggaetón, ritmos latinos y hasta corridos, a sus fans no les importó lo más mínimo y disfrutaron las canciones tanto como de la etapa experimental de Almanueva (2016) y lo reflexivo de De Locos y Monstruos (2014), precisamente eso habla mucho de las nuevas generaciones, pueden escuchar y disfrutar sin problema alguno desde reggaetón, rap, trap y cumbias la misma noche, por la misma banda.
El recorrido de éxitos por la carrera de The Guadaloops continuaba y Sami lucía esos increíbles compases en la batería con los cuáles era inevitable no tener flashbacks a los grandes proyectos de Hip Hop que incursionan batería en vivo como The Roots de la mano de Questlove, Mos Def, N.E.R.D. y hasta Kendrick Lamar en la gira del To Pimp a Butterfly (2015).
Varias interacciones después con el público por parte de Fermín, el show siguió con "Cada que es abril" otra muestra de la diversidad de la banda al samplear a uno de los artistas más llamativos de la electrónica experimental de los últimos años como XXYYXX, además de tener de invitado a José Macario, que no sólo los acompañó en esa canción, continúo con la banda el resto del show.
Para dar el cerrojo final a un concierto redondo, se interpretó una de las más conocidas "Somnifera", así como "LA ÚLTIMA" y "Soma", una de las canciones donde la influencia literaria de la banda queda clara al tomar el nombre de la trama de un libro de Aldous Huxley.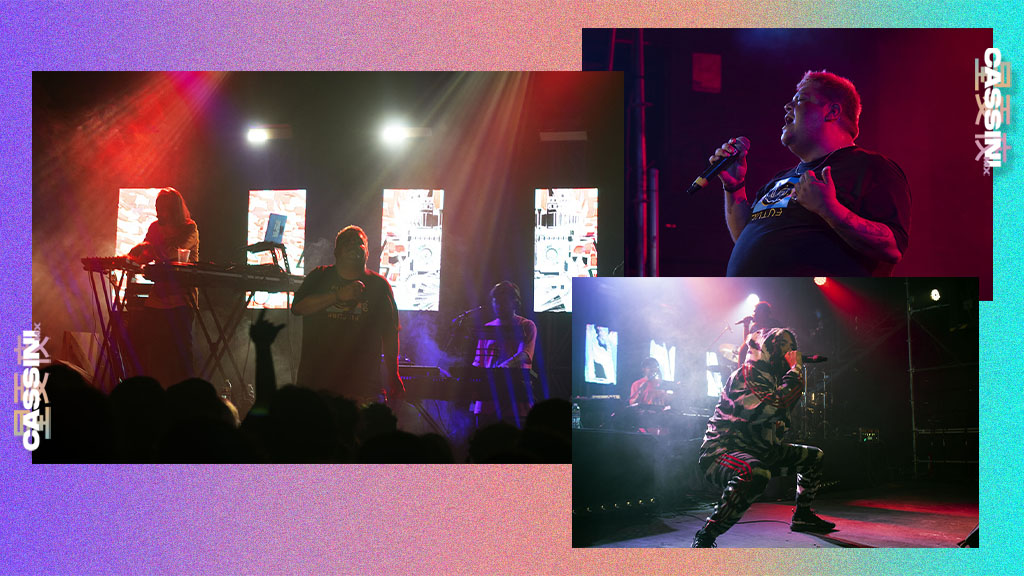 Sensaciones
El conjunto de recuerdos, sonrisas y dedicatorias que The Guadaloops le provocó a sus fans es la muestra clara de que se puede crear la sinergia entre la complejidad y lo audible de la música, para plasmarla en directo y crear sensaciones en cada asistente. 
De algo estamos seguros: Cada asistente paga el ticket para ver a sus bandas favoritas esperando la entrega, show y calidad necesaria para salir con un buen sabor de boca, para atesorar esa noche en su memoria y rememorar cada instante, cada rima y cada sentimiento, algo que Guadaloop supo ejecutar a la perfección.
Esta noche nos dejó varias exigencias, necesarias: Más bandas como Guadaloops, más conciertos como el suyo en la ciudad, más instantes musicales reminiscentes a nuestra mente. El hip hop Mexicano nunca había relucido tanto como la noche del 24 de julio en C3.