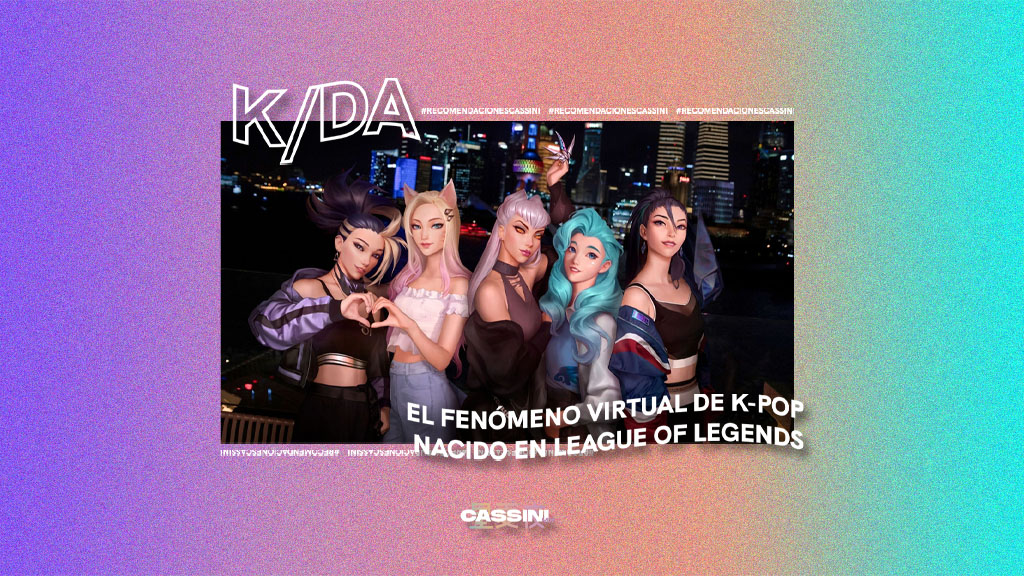 K/DA: El fenómeno virtual de K-Pop nacido en League of Legends
Para los que no estén tan adentrados en la subcultura del videojuego, League of Legends es un MOBA, un juego de rol, con más de 10 años de existencia. Durante esta década el juego se ha mantenido en el número uno de los juegos más jugados del mundo con más de 100 millones de jugadores activos y el más visto en plataformas como Twitch o YouTube -hasta superando a Fortnite y Minecraft en sus meros apogeos y modas-, esto por su particular modalidad free-to-play, modalidad que muchos juegos adaptaron posteriormente. ¿Pero entonces cuál es el modelo de negocios de estos juegos? Los micro pagos, que solo sirven para comprar mejoras visuales dentro del juego.
La música en League of Legends
Además de lo anterior mencionado, el juego ha sabido posicionarse muy dentro del mundo mainstream, hasta de los no gamers, pues sus estrategias de marketing son enfocadas a salir de su limitado nicho gaming. Cada año desde 2010, el juego realiza un campeonato mundial donde equipos de todas las regiones compiten por ver quién será el mejor equipo del mundo durante ese año.
Desde 2014, League of Legends tomó relevancia en el mundo en general por la canción que musicalizó el torneo, una canción que estrenaron junto a Imagine Dragons; Warriors fue el título de la canción del mundial de aquel año, con la que League of Legends se puso en el mapa de la gente común que no conocía del videojuego. Desde entonces hasta este 2021, el recurso musical se volvió fundamental no solo para Worlds -el mundial-, si no para el desarrollo e identidad del mismo juego y comunidad.
Luego de colaborar con diversos artistas de talla mundial, el equipo de Riot Games -empresa creadora del juego- se dio cuenta que habían creado ya un universo inmenso en torno a League of Legends, la historia de su mundo y de sus personajes, por lo que optaron por crear su propia agrupación musical.
Un conjunto «virtual» de k-pop
Al estilo Vocaloid o Gorillaz en sus principios, nace en 2018 K/DA, un conjunto de k-pop que, presumiblemente, son cuatro de los personajes que aparecen dentro del juego: Ahri, Kai'Sa, Akali y Evelynn. En la vida real, las voces detrás del proyecto son Madison Beer, SOYEON y MIYEON de (G)I-DLE, Lexie Liu y Jaira Burns.
El sonido de K/DA entra sin problemas en lo perteneciente al k-pop, con líricas en su mayoría en coreano -teniendo en cuenta que es el país donde más jugadores de League of Legends hay diariamente – e inglés, como casi todas las letras de las agrupaciones más importantes del movimiento. Algo que sí se puede apreciar y que resalta más que otros proyectos de la misma rama es la inmensa producción que se escucha en cada track; esto no es sorpresa si escuchamos alguna canción del videojuego o una de tantas cinemáticas. Los de Riot le ponen mucho empeño y cariño a sus audiovisuales.
A finales de 2018, K/DA lanzó POP/STARS, su debut y adentramiento en la cultura popular más allá de la comunidad del videojuego. Pronto logró llegar 300 millones de vistas en YouTube en cuestión de semanas. Muchos medios -y no solo de videojuegos- hablaron de ellas y de lo que estaban haciendo. Y de hecho en el mundial de League of Legends de aquel año, fueron el acto musical que inauguró el torneo.
No volvieron hasta este año que sacaron THE BADDEST, más apegadas al trap y electrónica occidental, pero con los cimientos bien establecidos del pop coreano, moviéndose entre ambos idiomas para hacer la letra. También en 2020 se incorporó una quinta integrante: Seraphine, quien además estuvo disponible como personaje jugable dentro del juego en simultáneo con su incorporación al conjunto musical.
El inmersivo universo
Lo impresionante de todo esto que es que es algo nunca antes visto en ningún videojuego: Romper la cuarta pared, romper la barrera de la ficción y traerlo a la realidad, generando así una experiencia de más innovadora y enriquecedora.
El poder jugar un personaje que se está «incorporando» a este grupo musical le da todavía más peso a la experiencia, no solo del juego, si no también de todo el ecosistema que se ha estado formando alrededor de este desde hace ya años, y que K/DA le aúna muy bien, porque además de la salida de la música, el personaje nuevo de Seraphine, se pusieron a la venta skins temáticas de K/DA de las cinco personajes pertenecientes al grupo, generando también una campaña de marketing excepcional.
Los directivos de Riot Games han puesto bastante empeño en crear un universo bastante inmersivo dentro del mismo juego, creando llamativas historias en torno a sus cientos de personajes, la interacción entre estos, y ahora con los proyectos musicales. No es la primera vez que se habla de un conjunto musical dentro del videojuego, pues en 2014 apareció Pentakill, una banda de rock y metal conformada por cinco personajes del juego, mismos que también tuvieron sus respectivas skins temáticas. Sin embargo, este último no tuvo tanto éxito como lo está teniendo K/DA, esto debido al gran terreno que tiene actualmente el k-pop en todo el mundo, una cultura que va en crecimiento también en Occidente.
El conjunto cuenta con apenas seis canciones, cinco de ellas apiladas en su EP debut, ALL OUT (2020), y se espera que pronto tengamos nueva música, pues se ha especulado la salida de nuevos sencillos para este 2021.