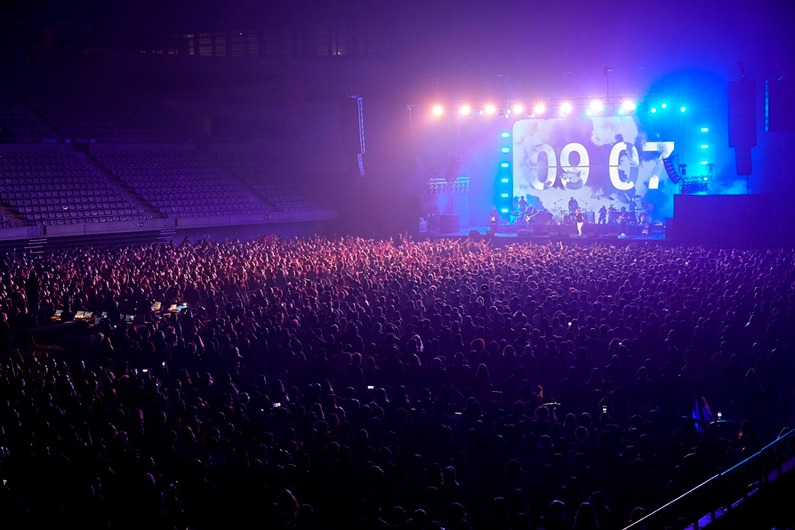 Love of Lesbian y las putas ganas de seguir el show: Realizan concierto masivo prototipo en plena pandemia
La necesidad de conciertos para los que amamos este tipo de eventos, además de la gente que se ganaba su vida gracias a estos, desde promotores, ingenieros de audio, camarógrafos, y los mismos artistas, es ahora una esperanza luego de más de un año sin poder presenciar música en vivo sin el miedo de contagio.
En España ya tienen rato haciendo conciertos pese a la pandemia, pero no de manera irresponsable, pues en su gran mayoría son aforos reducidos y respetando protocolos de sana distancia y sanitización al entrar al recinto, como lo vimos en los conciertos de Primavera Sound a mediados del año pasado, o el concierto piloto en el Wizink Center.
Ahora, Love of Lesbian realizó el pasado fin de semana un concierto experimento en el Palau de Sant Jordi de Barcelona, para demostrar cuán seguro puede ser realizar conciertos masivos con los protocolos sanitarios pertinentes. 5000 personas asistieron al evento, donde previamente se les realizó una prueba PCR; solo seis resultaron positivos a COVID-19 y se les hizo su completo reembolso. El resto fue acreedor al concierto de la banda de Barcelona, pero antes de ingresar, se les entregó una mascarilla y se les pidió que no se la quitaran en ningún momento del show.
Santi Balmes, frontman de la banda, pidió a todos que no se quitaran la mascarilla, pues «el mundo entero los estaba viendo», y así fue. El resultado de este experimento se verá reflejado en las dos semanas posteriores, habrá que llevar un seguimiento a los asistentes y ver cuántos de ellos se infectaron gracias a este evento.
De ser del todo un éxito, este concierto representaría el inicio para los conciertos en la «nueva normalidad», donde no existe una sana distancia pero si una fuerte satinización y protocolos previos al ingreso al venue. Es hasta descabellado ver cómo 5000 personas están pegadas unas a las otras, pero si todo sale bien -y ojalá sea así- estamos ante una nueva forma de disfrutar la música en vivo nuevamente pese a la pandemia.