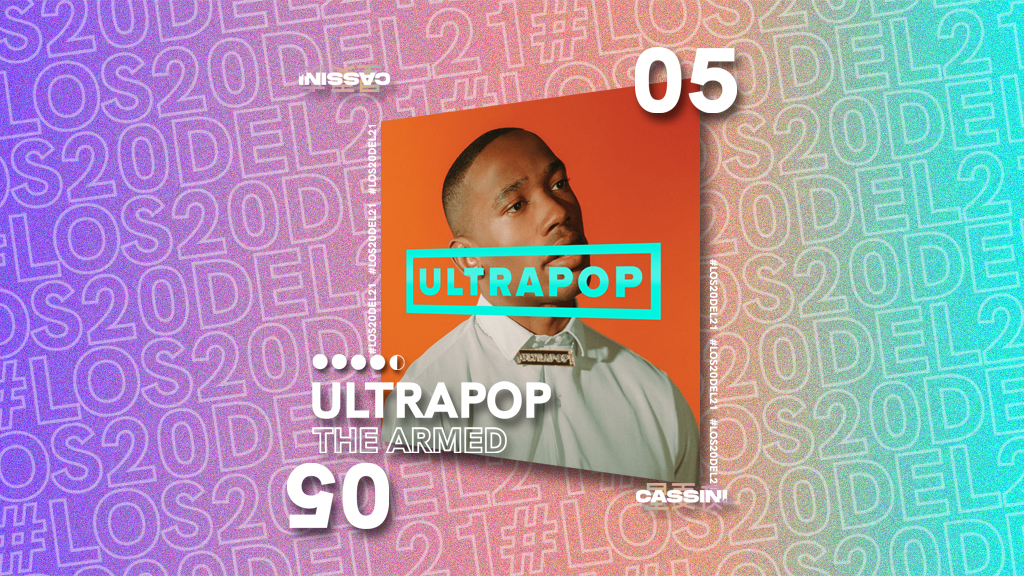 05: 'ULTRAPOP': Del noise al pop, la metamorfosis de The Armed y el despreciable vivir del humano en el mundo digital
Los puritanos más encasillados en la escuela vieja del heavy metal no están tan des familiarizados con lo que supone The Armed y su progresivo pero inminente cambio estilístico; desde su Untitled (2015) que representaba su pináculo en el hardcore y metal la banda ha mostrado una evolución igualmente progresiva al incursionar en elementos -simbólicos- del pop en su segundo álbum Only Love (2018). Un peldaño más arriba en esta escalonada de experimentación está ULTRAPOP (2021), su tercero, y más llamativo álbum hasta la fecha, y que tiene más de pop de lo que parecería.
Porque si seguimos de lleno a la banda, ya sea desde hace un par de días o años, nos damos cuenta que su sonido era un típico y bien ejecutado hardcore, pero su estética -aunque nula- no mostraba señales de ser una banda de sus características, y no me malentiendan, tampoco estoy invitando a la proliferación de etiquetas y prejuicios de cómo debe de verse un proyecto musical de n género o estilo. Hablo de que ni siquiera existe una etiqueta fija para hablar 'correctamente' de qué es The Armed.
Podríamos simplemente definirlo como una banda de hardcore experimental, pero creo que va más allá. No sé a ustedes pero la incertidumbre que genera el presunto anonimato del grupo me extasía, porque, supuestamente, los miembros del colectivo que vemos en los videos, las presentaciones en vivo y las entrevistas no son las mentes detrás del proyecto, sino que fungen como 'títeres' para no mostrar la verdadera identidad de los autores originales.
The Armed y el anonimato internauta
Creo que el concepto del 'anónimo' ya no resulta tan descabellado con 21 años dentro del siglo XXI. Ahora cualquier persona puede fácilmente crear un perfil de Facebook con otro nombre, cambiar toda la información de una página en Wikipedia, crear una fake new en el grupo de WhatsApp familiar y habrá mínimo una persona que caiga en estos engaños.
Vivimos en la época donde la información es de más fácil acceso que hace 30 o 40 años, pero la cercanía de esta información no nos asegura que sea transparente, que sea verídica. Es justo lo que aborda The Armed, porque creemos conocerlos, vemos sus caras, sus cuerpos actuando a la par de los acordes de los instrumentos e intuitivamente damos por hecho que son ellos, cuando no tenemos ninguna prueba más que la intuición de dar ese juicio.
No hay entrevistas coherentes, información detallada o algún tipo de información elocuente que nos pueda servir de referencia para comprender y conocer a The Armed, y eso es lo que más me llama la atención de todo esto: La incertidumbre. ¿Qué nos deja todo esto? Pues si quieres conocer más de la banda solo puedes hacerlo a partir de lo que ellos están dispuesto a brindarte como apoyo: Su música.
ULTRAPOP (2021), acorde a su nombre
Entrando en materia, el álbum en cuestión resulta raro desde el nombre. Cuando uno lo lee y ve la colorida portada empieza a saborear melodías poperas y de synth y dance pop con letras no tan grotescas como suponen. Esto desde la perspectiva propia de alguien quien no conocía a la banda previo a ULTRAPOP (2021), pero sin embargo la experiencia fue ruidosa pero enriquecedora.
A la escucha rápida, uno concluye puntualmente que se trata de un disco puramente de hardcore y metal. Y podríamos dejarlo allí, pero no sería justo. ULTRAPOP (2021) es el acercamiento y -excelente- ejecución del noise y el pop del colectivo de Detroit, convergiendo tres ramas que resultan ajenas una de la otra en una inexistente bifurcación sonora.
¿Pero cómo puede existir un bagaje pop dentro de un disco ruidoso? A diferencia de sus predecesores trabajos, ULTRAPOP (2021) muestra melodías y versos claves en cada canción, algo así como coros de alguna canción pop dentro del mainstream. Combinando esto, con la sonoridad agresiva e irreverente del colectivo, tenemos un álbum multifacético y repleto de distintas interpretaciones por la complejidad de su sonido.
Concluyente y multifacético
No todo es noise y hardcore en ULTRAPOP (2021), porque resultaría cansado escuchar gritos y sonidos exorbitantes durante 39 minutos. Para dejar de lado lo monótono, The Armed se toma respiros de tres minutos que convierte en las canciones más digeribles del álbum, como el intro homónimo, AN ITERATION o BAD SELECTION.
Estos ligeros respiros suelen aterrizar con un desenlace explosivo y fugaz, que desemboca en el comienzo de la siguiente canción, creando un bucle entre una canción a otra, pero con finales concluyentes si es que escuchas apartado por apartado. ¿Ves por qué decía que ULTRAPOP (2021) es un disco de distintas interpretaciones?
Multifacético, sí, bastante. ULTRAPOP (2021) toma inspiración directa de distintas ramas musicales que uno pensaría que son imposibles a juntarse… pero The Armed lo logra; este disco en particular explora lo más abismal de las creativas mentes de los -presuntamente- 19 integrantes implícitos en la creación de este Frankenstein estilístico.
Hay pop, noise, hasta rasgos de japan noise, psicodelia proveniente de los riffs potentes de guitarras, metal, hardcore y guturales exquisitos que van de maravilla con los ligeros toques de sintetizadores empleados acá. Hay de todo, y aunque quizá sea más difícil de digerir para algunos, el álbum termina siendo del agrado por la perfecta ejecución de todo el conjunto conceptual y sonoro.
¿Digital o humano?
El discurso de ULTRAPOP (2021) va de la mano con lo mencionado unos párrafos más arriba, donde resalté ejemplos de la proliferación excesiva de noticias falsas y de la facilidad de la desinformación. Es un tema fresco para mí, e interesante en la misma potencia, y creo que describe bien la atmósfera que ha cubierto a The Armed en estos años, por eso considero este disco como el verdadero inicio del colectivo, como el renacimiento de una mariposa.
Las fachadas digitales, la avaricia, codicia y las mentiras son factores humanos despreciables, pero necesarios a fin de cuentas; The Armed se esmera en resaltar todo esto, pero no para aborrecerlos, sino para disfrutarlos como si fuesen conductas indispensables para el desarrollo humano, tanto en la red como en la vida real.
Es aquí donde surgen varios planteamientos: ¿Es un discurso digital o humano? Diría que humano en el mundo digital, aunque suene paradójico. ¿Qué tan beneficioso para el desarrollo personal y colectivo puede ser alabar lo aborrecible del mundo internauta? Creo que se habla de un reconocimiento para aprender a vivir en dualidad.
Si me lo preguntas, ULTRAPOP (2021) se encuentra fácilmente dentro del top de álbumes de lo que va del año; es un gran trabajo que difícilmente será superado por próximos álbumes de The Armed, supone un gran reto brincar la vara de una experimentación y ejecución excepcional por un desconocido colectivo. Además, el concepto del propio disco trabaja en conjunto con el concepto de la banda, sintiéndose como un debut.
Una metamorfosis podríamos decirlo, y entra bien el significado. Un coctel de ruido, emociones y frenetismo, algo que teníamos rato sin ver fuera de los apretados nichos de este tipo de agrupaciones. Porque el hardcore es un género que no tiene de propiedades físicas donde albergarse, y con el contexto pandémico, el movimiento se vio todavía más encerrado en sí mismo.
Sin embargo, The Armed sale de su nicho, de su zona de confort de 'banda de hardcore' para adjuntar más misticismo y sentido filosófico a su proyecto, abordando temas ya clichés pero con su sello personal, que es lo que convierte en una joya bruta al ULTRAPOP (2021).