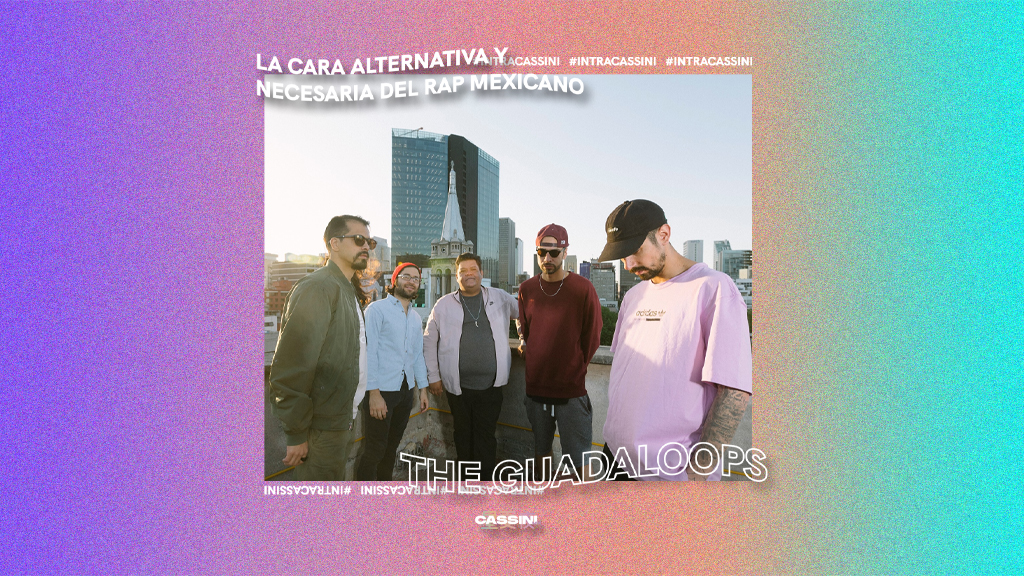 The Guadaloops: La cara alternativa y necesaria del rap mexicano
#IntraCassini es una sección donde el equipo de redacción de Cassini aborda un tema de interés propio con completa libertad, siendo un texto puramente opinativo, descubriendo el mundo de cada mente creativa.
La escena del hip-hop nacional ha estado creciendo de una manera descontrolada, y no en el malo sentido de la palabra, pues es un género que paulatinamente va ganando más y más terreno en el conciente colectivo del mexicano.
Viendo este despegue tan significativo es como en 2012 nace The Guadaloops, que buscaba dar otra perspectiva al rap que se estaba haciendo en nuestro país. Con Franco Genel, mejor conocido como Tino El Pingüino, y Fermín Sánchez como cabecillas vocales, la agrupación ya se mostraba ambiciosa a sus propósitos; a estos se les sumaba Fernando González como bajista, el maestro Samy Mendoza en la batería y Bernardo Pérez en los teclados.
Decayendo en su universo
¿A qué suena The Guadaloops? La mezcolanza de géneros y estilos hacen de esta agrupación algo único dentro del catálogo mexicano de hip-hop, combinando sonidos del género antes mencionado, con neo-soul, future bass y hasta ciertos rasgos de funk, además de una influencia definida por los sonidos electrónicos.
El universo lírico en el que The Guadaloops busca envolver al escucha está directamente dirigido hacia las pasiones humanas; el amor, el dolor, la felicidad. Lo atmosférico del conjunto se deja a relucir en cada una de sus canciones, pues además de contrastar de una hermosa manera la voz más tónica de Fermín con el estilo rapero de Tino, los otros genios instrumentales crean una atmósfera preciosa, una experiencia que va más allá de lo sonoro, viajando en la propia mente del escucha.
Lo poético de sus letras van más allá de una propuesta promedio de rap nacional. La agrupación ya cuenta con tres álbumes: De Locos y Monstruos (2014), que suena a una antología de cuentos mágicos y fantásticos, Almanueva (2014), con un concepto más apegado en las relaciones humanas e hincapié en lo electrónico y (SEIS) (2021), más pesado y caótico en el sonido y concepto.
También cuentan con un par de EPs y sencillos, por ejemplo, La Viuda (2018), su trabajo más aclamado por la crítica y el público nacional. Por su parte, en Caóstrico (2019) vemos un dominio lírico y literario por parte de ambos cantantes del grupo, y sin dejar de lado la instrumentalización bellísima por parte del resto de la banda, donde juegan un poco con el trip-hop para marcar un punto y aparte en su catálogo sonoro, mismo que se vería en posteriores entregas, como el sencillo Soma (2019) y el más reciente trabajo discográfico.
El propósito de ser y fluir
En una entrevista, The Guadaloops mencionaron que «intentamos crear un espacio libre en el que las cosas fluyan, donde dejamos a un lado los prejuicios de lo que está bien y lo que no, y solamente hacemos esto a través de un ejercicio artístico y creativo«, y estamos completamente de acuerdo con ello.
Creo que el ímpetu mental es lo que hace a la banda algo tan íntimo y mágico, recayendo todo su argumento en el sentir humano, es un proyecto muy pasional, gestado y criado de manera hermosa, trayéndonos el resultado que podemos ver ahora mismo.
Podemos también de hablar de una evolución grupal; teniendo en cuenta que The Guadaloops va en sí de «crear un espacio orgánico para fluir», cada integrante ha encontrado la manera de volar solo y en conjunto, dejando lo mejor de cada acorde y verso en la mezcla sonora. Desde los primeros trabajos se notaba un dominio por parte de la electrónica, uno que poco a poco va llegando a segundo plano para darle espacio a nuevos sonidos, como ya se mencionó, funk, trip hop, reggaetón, etcétera.
El recurso cultural y el elitismo del hip-hop
Desde el nombre de la agrupación se deja claro de dónde viene todo eso. Una analogía clara de la Virgen de Guadalupe, algo característico mexicano, con el término loop. El inicio de la convergencia está desde el nombre. La esencia del rap mexicano fue muy elitista durante un tiempo: Si no venías de barrio simplemente no podías hacerlo, se considera una falta de respeto a la cultura, y aún hay muchas personas arraigadas a este concepto, y es respetable, pero creo que habla más de un miedo al cambio, a lo nuevo.
¿No se supone que el hip-hop aborda el descontento, y en cierto modo, la rebeldía? La rebeldía se sustenta con ir en contra de lo preconcebido como normal o aceptado. ¿Entonces por qué abordar un elitismo forzado?. Paradójica la definición. Pero creo que se entiende a qué quiero llegar, a un estatus de superioridad dentro de la misma cultura que limita el crecimiento y expansión para una posterior experimentación con más hebras.
En discrepancia a lo impuesto, y gracias a un afortunado impulso creativo por parte de múltiples artistas nacionales, el despegue de The Guadaloops pudo ser digno de alguien como ellos, un conjunto que no escatima en recursos lingüísticos y sonoros, creando algo más que productos auditivos, llegando a las fibras físicas de cada oyente.
The Guadaloops es lo que le hacía falta al panorama de rap mexicano, son el conjunto alternativo por excelencia de hip-hop del país. Si bien, tienen elementos muy marcados del rap, la exquisita combinación de sonidos van de la mano con el concepto de sonar lo más arraigado a la cultura mexicana posible.