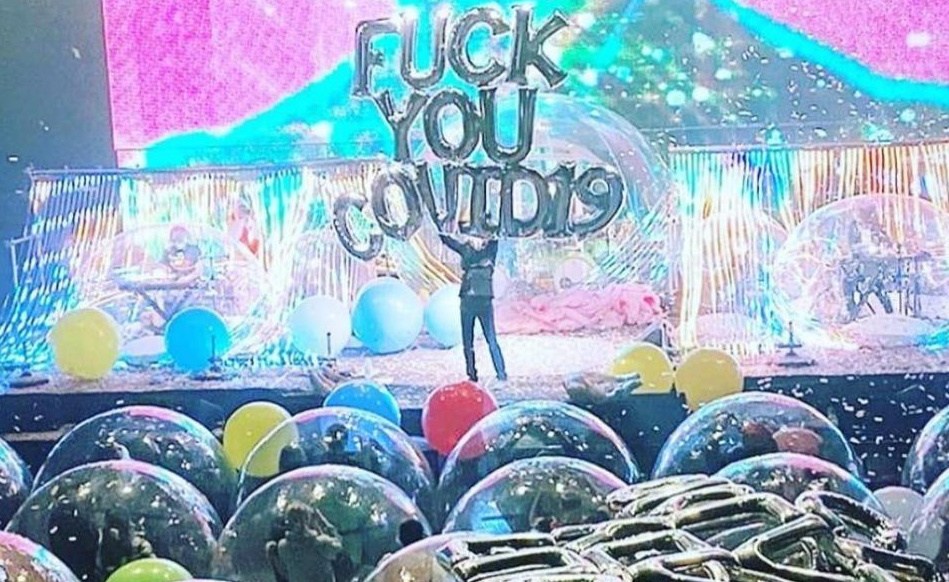 The Flaming Lips organiza el primer concierto en burbujas espaciales del mundo.
Tras meses de intentar a modo de prueba y error, finalmente, The Flaming Lips lograron organizar con éxito el primer concierto dentro de burbujas espaciales en todo el mundo.

El concepto consiste en encerrar hasta a tres espectadores del público dentro de una burbuja de plástico, mismas que ya han sido utilizadas por los miembros de la banda, gracias a esto, se cumplieron todas las medidas sanitarias contra el COVID-19.

El escenario fue decorado con un globo gigante con la leyenda «Fuck You COVID-19», el cual estuvo presente en todo el set, que consistió de 13 canciones.

Recordemos que este método se había utilizado previamente en julio del 2020, cuando The Flaming Lips se presentó en el Late Nigth Show de Stephen Coobert, los reyes de la neo psicodelia decidieron presentarse en vivo donde cada uno contó con su propia burbuja de plástico, dejando de lado que sólo el vocalista utilizara esta medida, misma que lleva siendo una constante desde el estreno de The Soft Bulletin (1999).