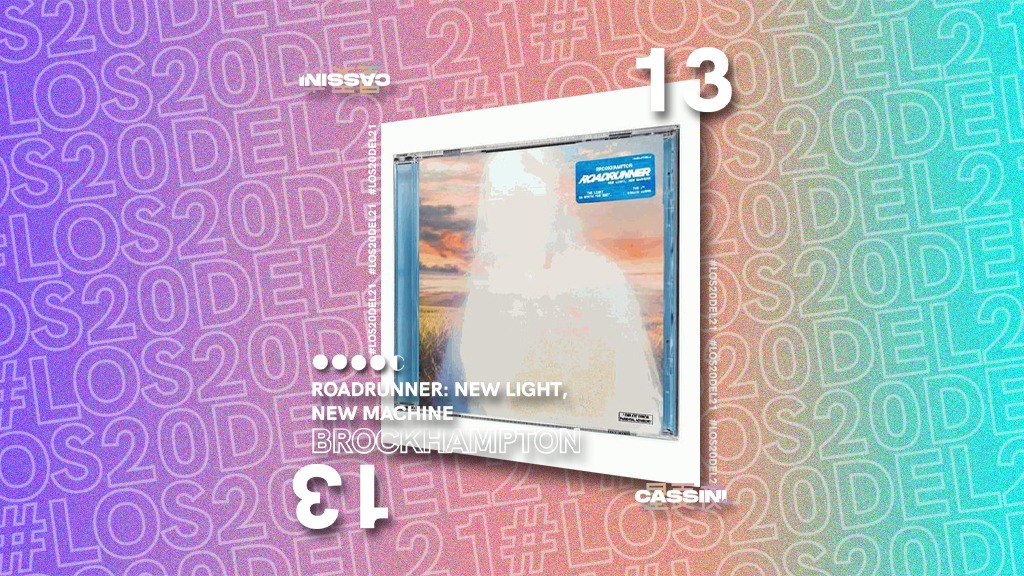 13: 'ROADRUNNER', el último destello de esperanza de BROCKHAMPTON por una unidad en la antesala a su fin

El sexto álbum de BROCKHAMPTON llegó en un momento más tranquilo de la pandemia, donde el miedo colectivo cesó un poco para sentarse a pensar qué sigue, tanto en lo social, económico y, lo que nos compete hoy, lo artístico. Si bien, el grupo de mantuvo activo el año pasado lanzando sencillos de un mixtape, álbum o no sé qué era llamado Technical Difficulties (2020), no fue hasta hace poco que tuvimos el final de la segunda trilogía del colectivo.
ROADRUNNER: NEW LIGHT, NEW MACHINE (2021) es el penúltimo álbum de BROCKHAMPTON, confirmado así por Kevin Abstract, un disco ciertamente menos llamativo que sus predecesores por la falta de un concepto como tal para definir el trabajo dentro de lo que es y lo que no es.
La colectividad hace la fuerza
Musicalmente, BROCKHAMPTON jamás ha sido una cosa. Uno podría notar fácilmente una progresión artística de la trilogía SATURATION (2017) hasta el GINGER (2019), pero el éxito y recibimiento del grupo radican en la capacidad que ellos tienen en apoyarse en los diferentes sonidos sin diluirlos, creando así un espacio donde la energía y vulnerabilidad emocional de todos coexisten en un mismo lugar.
Un destello destacable de sobremanera de ROADRUNNER (2021) es que, aparentemente, todos parecen felices de acoplarse nuevamente a sus estándares de crear música, han redefinido su arte con una nueva confianza y un enfoque más específico, esto hablando dentro de la colectividad que supone más de una decena de mentes trabajando codo a codo. Puede que Abstract esté perdiendo la línea y el sentido en BROCKHAMPTON, pero el grupo en conjunto evidentemente le ha puesto un poco de pensamiento al ROADRUNNER (2021).
Seamos honestos: Se logra percibir un grado alto de inconexión entre los últimos dos lanzamientos y este; se supone que son conformados por la misma trilogía, iridescense (2018), GINGER (2019) y ROADRUNNER (2021), pero todos carecen de un factor común que los conecte, pues si tomamos como base la primera trilogía, SATURATION I, II y III, no solo compartían el nombre, también el concepto, sonido y hasta estética eran acordes.
Las necesarias colaboraciones y el arriesgado pero acertado cambio estilístico
Lo destacable de ROADRUNNER también es la apertura a colaboraciones, pues en anteriores trabajos no pasaba, o no tan oficial, pues recordemos que Dua Lipa los acompañó en el remix de SUGAR, o la desapercibida aparición de Slowthai en HEAVEN BELONGS TO YOU del GINGER (2019). Por su parte, Danny Brown ofrece una actuación característica suya, típicamente frenética en BUZZCUT, la apertura del álbum, mientras que la parte de JPEGMAFIA en CHAIN ON logra encajar de maravilla con el resto del grupo y el sonido de la canción en particular, porque sabemos que ese no es el estilo del rapero, y ni hablar de la dinámica excepcional y la química que desborda BROCKHAMPTON en conjunto con A$AP Rocky y A$AP Ferg en BANKROLL.
Un cambio significativo en el álbum y en general en BROCKHAMPTON es el uso de la instrumentalización sustentada en toques de psicodelia, como lo notamos en WHAT' THE OCCASION, que cierra con un riff de guitarra clásico del subgénero. Pero así como hay puntos álgidos, los hay débiles: COUNT ON ME y I'LL TAKE YOU ON son estas canciones que casi condenan al álbum por su carente peso sonoro y argumental, además de sus ya gastadas fórmulas R&B que a este punto de la agrupación resultan repetitivas, un colchoncito seguro pero ya aburrido.
En torno a la familia
La ajustada producción hace que ROADRUNNER (2021) sea un álbum para disfrutarlo de manera puramente superficial, esto teniendo en cuenta sus momentos más llamativos, y esto es preocupante. Por ejemplo, el instrumental impulsado en su mayoría por guitarra de THE LIGHT hace que te enfoques en el sonido e ignores el tema oscuro de la letra: Suicidio y violencia con armas de fuego. Joba cuenta la muerte de su padre y las implicaciones que esto ha traído en su salud mental, mientras que Abstract vuelve a tocar el tópico de la sexualidad y la religión, además de su complicada relación con su propia madre.
Viendo lo anterior, surge una pregunta un tanto rara, pues ROADRUNNER (2021) es un álbum que gira en torno a la familia, pero entonces, ¿por qué BROCKHAMPTON no reflexiona sobre su propia unidad como colectivo? Especialmente porque este es su penúltimo álbum, con el otro llegando a finales de año, ROADRUNNER (2021) trae consigo un poco de esperanza, esperanza por una unidad real y concisa entre los actores principales del colectivo para darle un cierre digno a la agrupación, por lo que este último año promete bastante.
¿Un álbum sin propósito?
Retomando el punto anterior, el grupo ha dejado un tanto abierta la brecha sobre cómo disfrutar este disco, pero sigue llamando más la idea de quedarse en la parte más superflua. El 2019 marcó un punto y aparte para el colectivo; SUGAR llegó a un punto álgido en la carrera de BROCKHAMPTON, el pináculo de su popularidad y alcance seguramente, se escuchaba en todos lados, Tik Tok principalmente, recuerdo hasta ver que en Spotify tenían 18 millones de oyentes mensuales.
La portada de este nuevo álbum me genera inquietud, pues como tal es la foto de un álbum físico, algo que me da la idea de que, en última instancia, es un producto destinado directamente al consumo. Creo que todo esto ha cansado a la banda, se han visto envueltos en insatisfacciones con las disqueras y hasta estrés colectivo. Dijo Kevin Abstract en una entrevista que este es el primer álbum de BROCKHAMPTON donde se sintió «cansado de lo de la boyband«, explicando que se habían propuesto en redefinir el término, pues ahora «solo quieren hacer música y dejar que la gente lo llame como quiera«. Cuando se le preguntó por un término más general evitó lo comercial: «Una comunidad«.
Es un disco con ciertos toques llamativos, pero en términos generales, no le encuentro como tal un propósito fijo. A diferencia de otros trabajos donde se abordaban temas sexuales, raciales, sociales y demás, ROADRUNNER (2021) resulta difuso en cuanto a su mensaje a dar, no por ser difícil de digerir, más bien porque el mensaje está allí pero al mismo tiempo no lo está. Creo que hay tantas cosas de las que quieren hablar que terminan divagando en todo sin darle su tiempo a algún tópico como se lo merece. ROADRUNNER (2021) se siente como un intento forzado de cerrar lo antes posible con la trilogía, y quizá lo previamente dicho, sobre la inquietud de tocar tantos tópicos, los haga cambiar de opinión y no se disuelva el colectivo, quién sabe.
Al final del día, ROADRUNNER: NEW LIGHT, NEW MACHINE (2021) resulta un álbum divertidísimo, donde, como de costumbre, BROCKHAMPTON exprime toda su creatividad, donde solo se dejan llevar y las limitaciones creativas no existen del todo. Es completamente comprensible que algunos actores estén cansados del término «boy-band» o de la misma colectividad en sí, pues trabajar con las mismas personas todos los días durante tanto tiempo resulta ser agotador mentalmente independientemente de su quizá buena relación interpersonal. Si bien, el propósito y mensaje del álbum es incierto, la escucha superficial del disco es disfrutable por los toques psicodélicos y la carga melódica que éste tiene.
Resulta raro, nostálgico y triste que estamos ante la posible recta final de BROCKHAMPTON. Han sido 5 años donde no han parado de trabajar en darnos música de calidad y bastante profunda. Aún hay una chispa, sigue intacta, una chispa que hace que todas las mentes del colectivo converjan en una misma para darnos lo mejor de sí.
La espera por este presunto último álbum todavía actúa como promesa, aún nos preguntamos cómo es realmente la luz que se nos promete en todo el ROADRUNNER (2021). Quizá esa luz represente esa magia que tanto nos cautivó desde aquel lejano ALL-AMERICAN TRASH (2016) o la trilogía SATURATION (2017). Si es así, la luz sigue encendida, titilando y parpadeando, pero ojalá siga prendida un buen rato más.