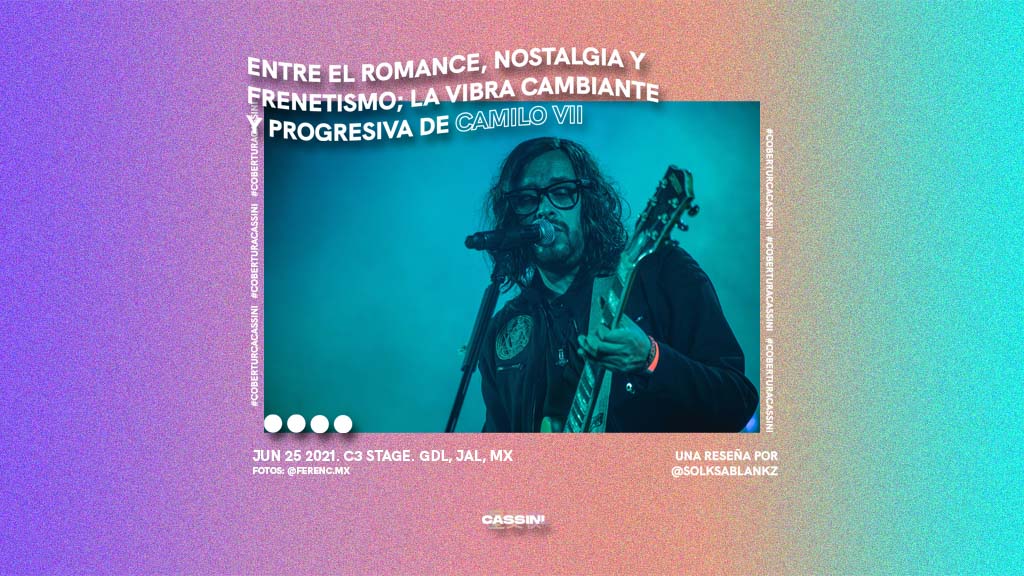 Entre el romance, nostalgia y frenetismo; la vibra cambiante y progresiva de Camilo VII
Por Soledad Vega.
Entre cervezas, luces neón y humo, la fanaticada de Camilo VII los esperaba ansiosos luego de no poder verlos desde aquella última vez en el Teatro Diana en septiembre de 2019. Aquella ocasión fue especial, la primera vez de la banda en un foro tan grande y de renombre. No diferente a esa vez, la noche del 25 en el C3 también significó para la banda.
Tal vez fuese ya la quinta o sexta vez de la agrupación en el foro de Avenida Vallarta, pero fue su regreso a la ciudad, una que ha mostrado siempre un cariño hacia su música cada que se presentan en una u otra parte de Guadalajara. Afortunadamente el sentimiento es mutuo, y se notó desde la espera a la salida de la banda a la tarima del escenario.
La primera impuntualidad
Mencioné ya dos veces la espera porque, a diferencia de lo que me habían contado de anteriores conciertos en C3 donde el artistas salía extremadamente puntual, con Camilo no fue así. 40 minutos, para muchos se volvieron una eternidad. Ya escuchábamos cómo gritaban «¡Camilo, Camilo!» a la nula respuesta.
De lleno se cortó la música de The Strokes y The Kooks para dar paso a lo que veníamos: Camilo VII salía por fin al escenario, caminando al compás del silencio de las bocinas del foro pero al unísono de la algarabía de la euforia del auditorio. Toda esta ecuación dio un producto que denominamos como la emoción, una que necesitaba ya de vuelta a mi vida, y que estoy segura que muchos allí también.
Entre luces de Neón
El cómo definir este concierto fue sencillo desde la salida de los integrantes: Progresiva. Al inicio, Coe llevaba la batuta de lo que resultó ser el intro de 'Eco', conforme avanzaba este intro los demás miembros del conjunto comenzaron a salir desde las penumbras, de las oscuras aristas del escenario para integrarse nuevamente a sus filas y respectivos lugares sobre la tarima.
Un reencuentro. Aunque ya habían tocado por primera vez pre pandemia algunas noches antes en Puebla, este concierto en Guadalajara se sintió como un reencuentro de años, especial, emotivo y enérgico.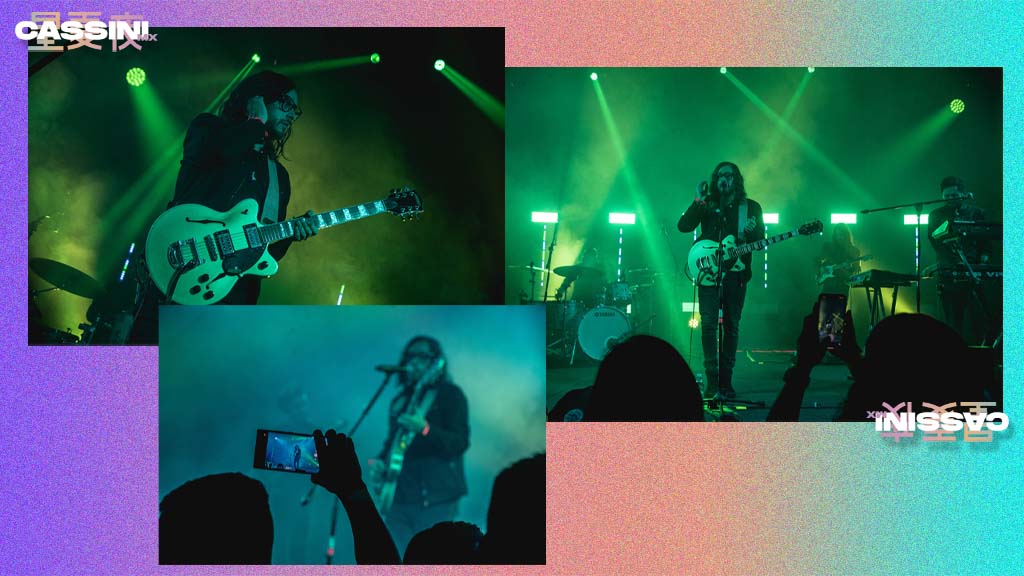 Y así comenzó, canción tras canción, nota por nota, el foro se iba llenando de una esencia que traspasaba la línea sonora, característico de la agrupación. Al voltear a mis costados, podía ver que la mayoría de asistentes venían en parejas, y no los juzgo, la ocasión se presta. El romanticismo desbordaba, y es algo emblemático de Camilo VII.
Resultó ser un concierto con un carácter especial, pues se sintió como si fuese la primera vez que nos paramos en un concierto. Fue raro, pero se entiende teniendo en cuenta que estuvimos más de un año sin este ejercicio. El ambiente, como ya lo decía, se acogió en un sentimiento nostálgico, romántico y melancólico, además de una presencia ciertamente onírica y cósmica.
Canciones como 'Ser Humano', 'No Te Puedo Olvidar' o 'Miénteme' agregaron más puntos a esta vibra melancólica, progresando en lo energético al pasar a las rítmicas 'Pulso', 'Frecuencia' y 'Eres'. Para los fans de más antaño también hubo dulzura; el Maya EP (2014) fue tocado casi en su totalidad, encaminando así hacia el final del concierto.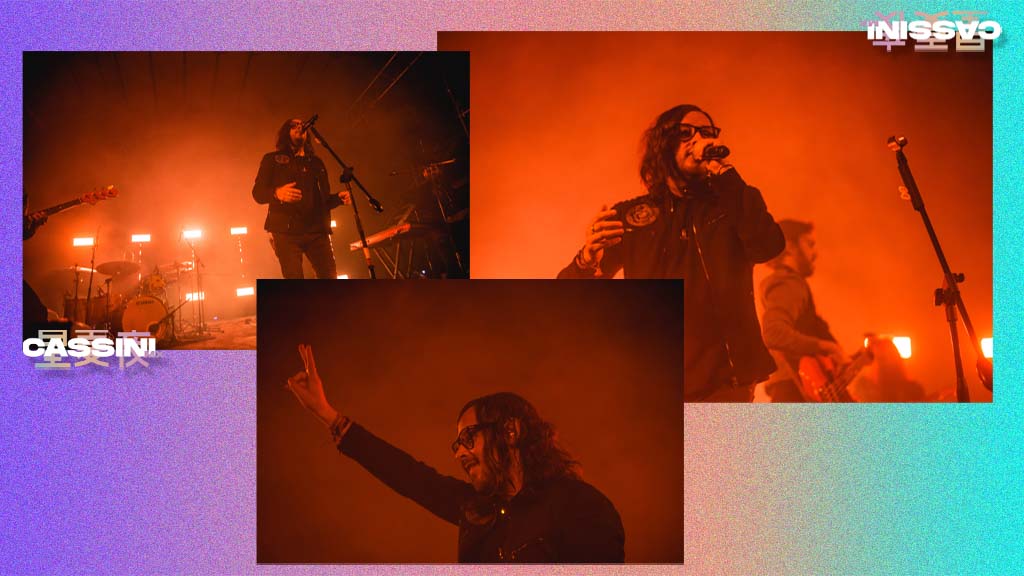 Ritmo progresivo; entre el romance, la nostalgia y el frenetismo
Un cambio de atuendo después, en el encore, volvieron para cambiar nuevamente el trayecto del viaje: Ahora viene el romanticismo. 'Galáctica' de fondo resonó, significando un suave baile en todos los que estábamos allí presentes, para pasar a 'Neón', y consumar este encuentro musical con el clásico y mítico 'Vicio'.
Los sentimientos no se vieron escatimados, pues al ser un concierto que conllevó distintas sonoridades y emociones, los pensamientos causados por cada canción se mezclaron entre sí; romanticismo, nostalgia y frenetismo coexistieron en un mismo lugar y estado de consciencia, entre gritos, emociones, ecos de la gente y de la mano de Camilo VII, representando el fin de la era de soledad en los escenarios.