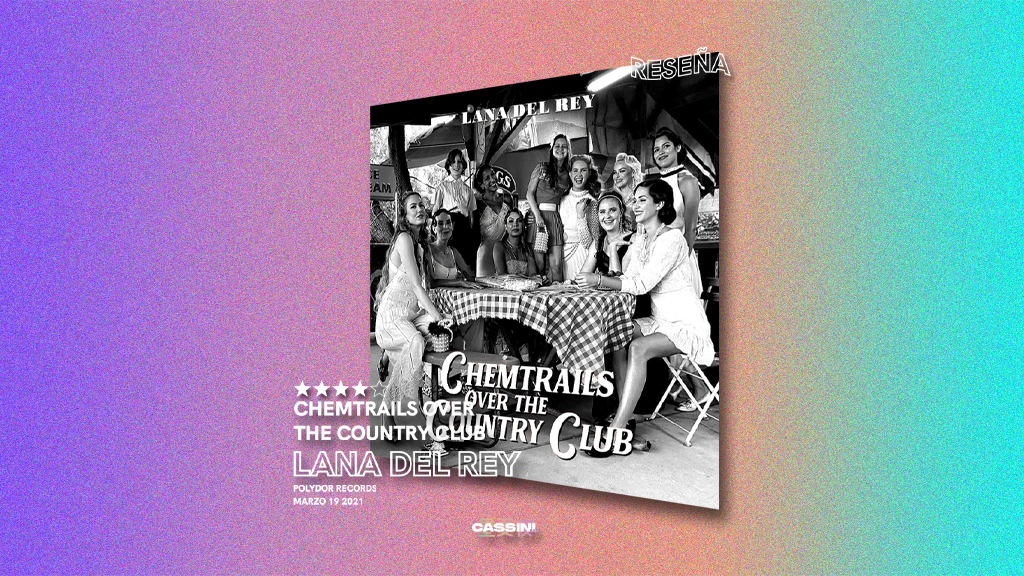 'Chemtrails Over the Country Club': El punto inflexivo en el arco argumental y carrera musical de Lana del Rey
El lado introspectivo y reflexivo de los grandes artistas siempre resultará interesante por la facilidad de plasmar emociones a través de música accesible, y todavía da puntos si estas emociones son tan realistas y honestas que el oyente puede identificarse con lo que se habla en la música y hacerla suya.
Este es el caso del séptimo trabajo de Lana del Rey, Chemtrails Over the Country Club (2021), que ya se estaba anunciando desde hace meses como el álbum más personal que hubiese hecho la estadounidense. Según la misma Lana, el disco esperaba su salida para el año pasado, pero ya sabemos lo que pasó. La difícil tarea de superar a Norman Fucking Rockwell! (2019) le puso un desafío propio a la intérprete, pero supo hacerle frente.
La meditación y reflexión de su historia
Creo que el discurso de la fama ya está muy usado, y más en el ámbito reggaetón y trap latino en los últimos años, por lo que en este punto, Lana no innova en cuanto al argumento del disco completo. Pero no queremos demeritar el trabajo de nadie obviamente, dejémoslo claro de una vez.
A comparación de anteriores trabajos, personalmente Chemtrails Over the Country Club (2021) el álbum instrumentalmente más llamativo de toda la discografía; en ciertas canciones se puede deducir cierta tendencia hacia el trip hop y R&B en canciones como Dark But Just A Game y Tulsa Jesus Freak, y vieras lo precioso que es escuchar la voz de Lana en estos géneros y estilos.
Como tal, el álbum representa un punto y aparte dentro del consciente de Lana del Rey. Es este un álbum que no es para el público, es una carta de Lana para sí misma, donde reflexiona de todo lo que ha pasado, voltea hacia el pasado y ve su presente para visualizar su futuro, para unir su historia y sus objetivos personales en un argumento de desarrollo personal bastante convincente para el oído.
La típica melancolía con base en el nacionalismo
Lo mencioné anteriormente: Este es un álbum de Lana para Lana, donde la crítica especializada y pública parecen no importar, pues lo que cuenta la estadounidense es orgánico, viene de lo más profundo de ella, pues la carga emotiva la considero la más personal y honesta basándome en sus álbumes predecesores, además de esas melodías dulces y suaves que te sumergen dentro de la mente melancólica de Lana y su inmersivo universo en el que quiere pasearte.
Un sello distintivo de Lana del Rey, para propios y extraños de su arte, era la bandera gringa, ondéandose al son de sus melodías, creando un sentimiento nacionalista en torno a todo el proyecto musical. Esto se vio mitigado por la misma cantante quien argumentó que dejaría de usar la bandera como símbolo de su trabajo para no tener un sentimiento patriótico hacia el expresidente Donald Trump.
Si bien, este era un símbolo clave de la imagen artística y corporativa del proyecto (y hasta se siente raro no ver el sentimiento nacionalista), Lana logra reivindicarse y mostrarse más fuerte y segura de sí, ya no como un ente identificada como estadounidense, si no como lo que busca plasmar en este álbum: Ser ella misma.
Punto y aparte
Chemtrails Over the Country Club (2021) resulta un punto de inflexión dentro de la carrera de Lana del Rey, donde posiblemente sea el último disco con esta estética y argumento en su carrera. La carga lírica de este álbum nos da a entender que es este el final de un arco argumental, de un largo viaje que Lana del Rey ha tenido que cruzar para llegar hasta este momento; es momento de cambiar de corrientes y nadar de otra manera.
La estética de este álbum en particular puede contenerse dentro del minimalismo musical, con una atmósfera tenue, pacífica pero reflexiva sobre todo. Como lo dije anteriormente, Chemtrails Over the Country Club (2021) es un disco que no busca pretender o generar expecativas en torno, este álbum es solo Lana del Rey contándonos su historia durante 45 minutos repletos de sentimientos y pensamientos honestos y orgánicos que se vuelven accesibles para cualquiera de sus oyentes por su realista proyección de la mente de su autora.