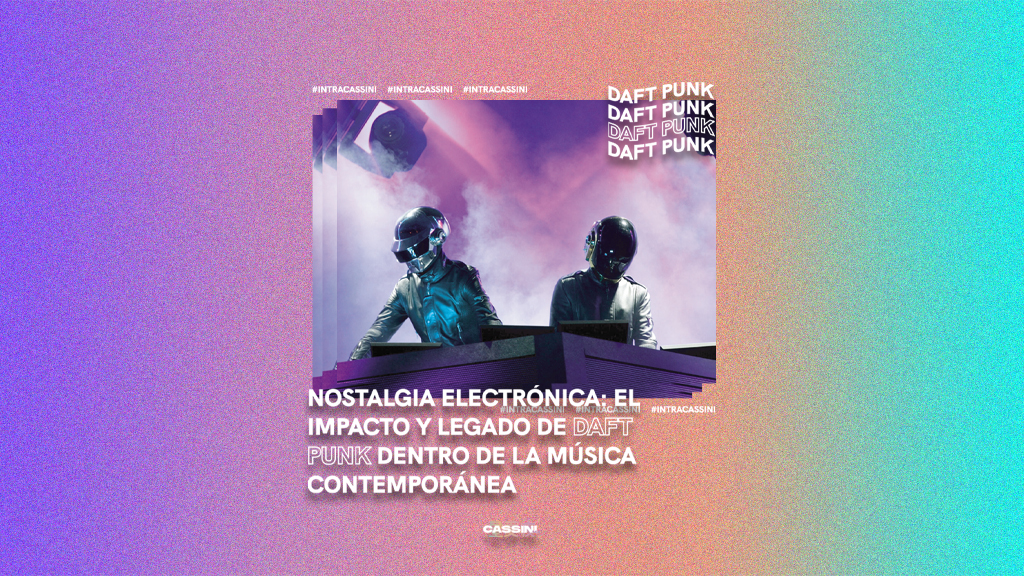 Nostalgia electrónica: El impacto y legado de Daft Punk dentro de la música contemporánea
#IntraCassini es una sección donde el equipo de redacción de Cassini aborda un tema de interés propio con completa libertad, siendo un texto puramente opinativo, descubriendo el mundo de cada mente creativa.
Por Daniel Solis y Nahual Zúñiga.
Pocos artistas pueden tener el estatus de iconicidad que el dueto de robots ha logrado y prueba de ello mismo fue el revuelo mundial que dio el anuncio de su separación. "Epilogue", el video en el que dieron el anuncio cuenta en pocos días con más de 15 millones de visitas.
Muchos seguimos tristes e incrédulos al ver a una de las agrupaciones más importantes de la historia despedirse, si bien ya llevaban un gran rato sin anunciar música nueva, una pequeña luz de esperanza se seguía viendo al final del túnel de todos los fans del dúo francés, que sin duda deja un gran legado dentro de la industria, y un gran vacío dentro de nuestros corazones. Por ello mismo queremos hacer un breve repaso al por qué Daft Punk ha sido tan importante.
Con una muy corta producción discográfica para el tamaño mundial que significó esta agrupación, contando con sólo 4 discos de estudio, el impacto que Daft Punk tuvo en la música electrónica a día de hoy solo puede ser comparado con figuras como Aphex Twin o Kraftwerk, moldeando el estilo entero de un género varias veces a lo largo de una década como pocos artistas, en general, han logrado.
Homework (1997)
Aunque con antecedentes claros la música electrónica tuvo uno de sus apogeos más altos en los 90s. Ya fuese con el dance proveniente de Detroit y Chicago que explotaba en popularidad en Europa o con géneros propios de ese continente como el techno, house o el propio eurodance la música electrónica estaba viviendo un despegue que nunca antes había recibido y Homework (1997) el primer álbum de estudio de Daft Punk (y un favorito personal) sería uno de los cimientos más importantes para el house europeo, particularmente popular en Francia.
Con sonidos ásperos, ritmos repetitivos y una influencia de varios subgéneros populares, Homework (1997) sería una representación perfecta del entorno musical del momento, uno elogiado por la crítica que, aunque a día de hoy pueda ser considerado monótono, repetitivo o desagradable por su crudeza como se puede ver en canciones como "Rolling and Scratching", "Rock N Roll", "Da Funk" o "Around the World" su impacto en la música electrónica es indiscutible.
La industria musical americana empezaba a notar lo que en Europa ya era la norma y trató de imitarlo pero Daft Punk ya comenzaba a moverse a una ruta completamente diferente.
Discovery (2001)
Si Homework (1997) era techno repetitivo de club, Discovery (2001) sería una máquina de hits. Incorporando samples de los 70s y 80s, con un mayor exceso de sintetizadores, vocoder y una herramienta relativamente nueva, el autotune, Daft Punk tomó elementos del pasado y los mezcló con la tecnología del presente para hacer un sonido del futuro.
Desde el dance de "One More Time" el hit más popular del disco, el solo ochentero de "Aerodynamic", la mezcla funk-jazz de "Digital Love", el electro de "Harder, Better, Faster, Stronger" hasta el ambient minimalista de "Nightvision", el acid house de "Superheroes", el R&B de "Something Abouts Us", el funk de "Face to Face" y el viaje de sintetizadores que es "Veridis Quo" Discovery (2001) es una amalgama de sonidos en un álbum que no solo le daria un estilo irremplazable a Daft Punk si no que también marcaría el estándar para la música electrónica en géneros que persisten hoy en día como el future funk.
Human After All (2005) / Conciertos
Luego del éxito de Discovery (2001), Daft Punk se aventuraría a un sonido mucho más minimalista y repetitivo, experimentando con la distorsión en lo que se convertiría en su álbum más polémico, Human After All (2005) llegaría con un recibimiento mixto, criticado principalmente por su lentitud y excesiva repetición.
Pese a tener hits memorables como "Robot Rock" o "Technologic" el álbum terminó siendo su trabajo más olvidable, sin embargo, el dúo supo redimir su trabajo por medio de uno de los aspectos sino el aspecto más importante de la identidad de Daft Punk: Los conciertos.
Es imposible hablar de conciertos de Daft Punk sin mencionar el legendario concierto en Coachella del 2006 acompañado de un espectáculo visual nunca antes visto que demolió la puerta del EDM que por tanto tiempo no había logrado tener éxito en Estados Unidos. Hasta tocaron a finales del 2007 en México por primera y única ocasión en Monterrey, Guadalajara y Ciudad de México.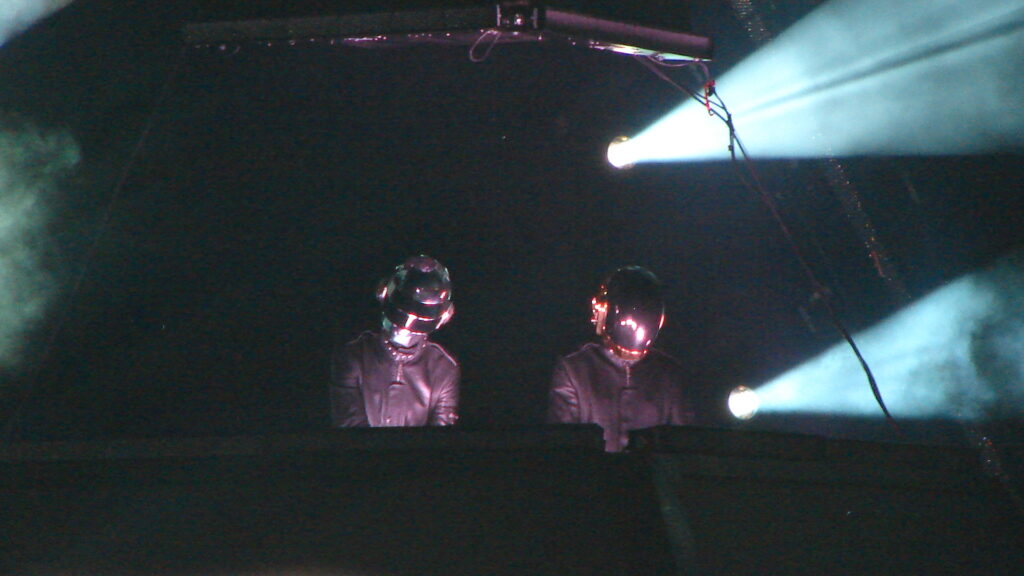 Y cuando todo parecía ir mejor que nunca, Daft Punk desapareció. Si bien, lanzaron Alive (2007), un disco en vivo en el que mezclaban sus éxitos más reconocidos y en 2010 realizaron el soundtrack para Tron, fue como si de repente dejaran de existir.
Poco se sabía que, tras bambalinas, Daft Punk trabajaba en su proyecto más ambicioso hasta la fecha. Una mezcla de todo lo que habían hecho antes, un tributo a la música, al funk, disco, la declaración más clara de su filosofía artística, el magnum opus de Daft Punk.
Random Access Memories (2013)
Si le preguntas a casi cualquier fanático de Daft Punk acerca de cuál consideran que es, objetivamente, el mejor álbum lo más seguro es que digan Random Access Memories (2013). Y todo con justa razón, el álbum es una declaración de amor a todo lo que es el estilo de Daft Punk, es la perfección de su sonido.
El álbum surgiría de la necesidad del dúo por alejarse de los samples, tanto Discovery (2001) como Human After All (2005) crecieron llenos de samples y este, uno de los elementos distintivos de la banda los había llevado a un punto de insatisfacción, querían componer la música desde su origen, crear algo que no solo se inspirara en el funk o disco sino que fuese, desde su composición un tributo a los géneros del pasado.
Y tras años de trabajo y una docena de colaboradores que van desde Pharrell Williams hasta el padre de la electrónica Giorgio Moroder, en 2013 Daft Punk lanzó al mundo lo que, con el anuncio de su retiro, fue su último álbum. Una mezcla de disco, funk, electro, rock progresivo y jazz que desde su lanzamiento quedó asegurado no solo como el más exitoso de su carrera, también como el más aclamado.
Desde el funk de "Give Life Back to Music" hasta la experimentación vocal de "The Game of Love" el jazz orquestal progresivo de "Giorgio by Moroder", el disco de "Lose Yourself to Dance" o "Get Lucky" hasta obras maestras como "Beyond" o "Touch" el álbum no tiene prácticamente ninguna canción débil.
Y así como el álbum, la música de Daft Punk perdurará como memorias, memorias codificadas de un pasado retrofuturista. Es incierto saber si su retiro será permanente o momentáneo, pero su impacto en la música ya es imborrable, ya sea pavimentando el camino para las generaciones venideras, como pioneros de subgéneros actuales o productores de obras maestras el legado que Thomas Bangalter y Guy-Manuel de Homem-Christo han logrado durará para siempre.